Advantages and Benefits of Rain Water Harvesting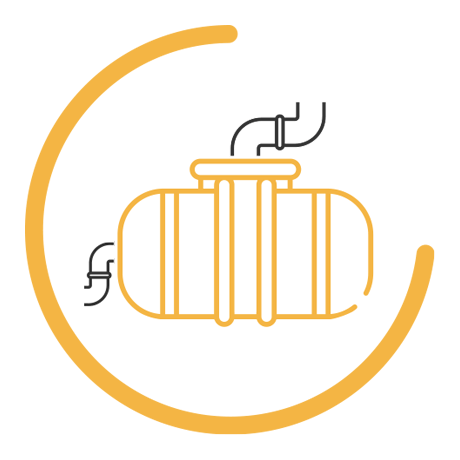 Harvesting rainwater is the method of collecting rainfall in a high capacity butt or tank system. Rainwater tanks are a great way to cut down on water usage and expenses while providing a secondary water supply to your home or business.
What are the Benefits of Rainwater Harvesting?
The main benefit of rainwater harvesting is the reduction in water bills and other expenses. By reusing natural sources of water, you decrease the amount you pay for mains water. This method is great for gardening, car cleaning, and running appliances such as a washing machine or toilet. With a fully integrated storage and filtration system, you can use rainwater immediately and reduce your mains water usage by 40-50%.
Some other advantages of rainwater harvesting are:
Zero water hardness: Natural rainwater eliminates lime scale build up in your appliances, extending their usable life and reducing the need for detergents and cleaners.

No chemicals/treatments: Rainwater has no nasty chemicals, and when properly filtered and disinfected it can be used as drinking water.

Environmentally friendly: Natural water is sustainable, non-treated and reduces the energy used by water treatment centres. Great for plants and gardens and landscaping.

Emergency water supply: Harvested rainwater with an integrated system or simple storage tank is the perfect solution in case of emergencies. No mains? No problem!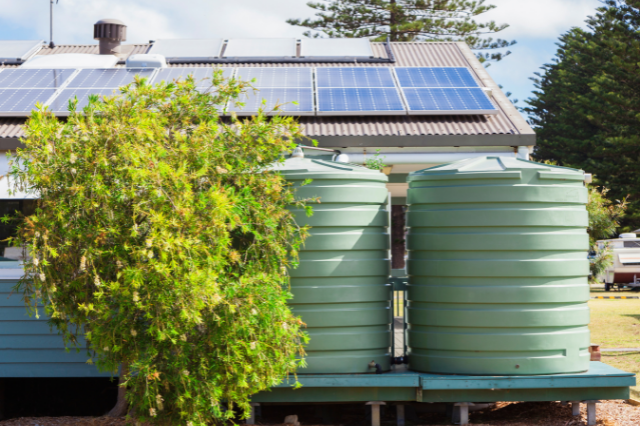 TIP – Cutting corners on a rainwater harvesting installation can be less effective and more expensive in the long run. Our expert engineers will survey your property to find the best rainwater harvesting system for you and give you a free quote. All costs are outlined upfront after an assessment, and then we supply and install your system.
Types of Rainwater Harvesting Systems
There are many types of system to consider when it comes to rainwater harvesting and as part of a Drain Doctor survey; we will assess which option is best for your property. There are three options we supply:
Basic Systems:
These types of rainwater harvesting systems include groundwater butts and standing tanks. Tanks like these can hold up to 400 litres of water which is a good option for smaller properties and grounds which require less water.
Aboveground Systems:
Aboveground tanks range from 800 litre tanks or up to 100,000 litre tanks for commercial properties. Over ground tanks are easier to install and less complicated than an underground rainwater harvesting system. These size tanks can reduce environmental impact and supply a larger size property and grounds.
Underground Systems:
Installing an underground rainwater harvesting requires excavation work, but sometimes it is necessary for a large water tank, especially if ground space is limited or restricted. A pump will be required to push water out of the tank, and this type of system is more aesthetic and versatile for larger properties and landscapes.
Who can Benefit from a Rainwater Harvesting System?
Rainwater harvesting systems are beneficial to everyone, from residential homes to commercial properties. There are systems of all types and sizes that can cater to any need. The benefits are substantial, environmentally, and financially, especially with buildings that are in high demand for water, including schools, leisure centres and farms.
Even more urban environments can benefit. With frequent storms, flooding is a high risk in some areas, but storing excess water in a tank can significantly reduce flooding and overflow.
Whether you are considering water harvesting for your home or your business, the benefits are certain and there are options available for every property size.
Is Collecting Rainwater Illegal in the UK?
No, collecting rainwater is not illegal in the UK. The Environmental Agency does not regulate harvested rainwater. You are allowed to collect and store rainwater as long as it doesn't harm the environment, and that you ensure that it is stored correctly and does not contaminate a mains supply.
Drain Doctor are experts in installation and rainwater harvesting systems and can answer any queries you have about installation and safety.
Is Rainwater Harvesting Worth It?
Having your own secondary water source is definitely worth it.
Reduce water bills over time
Healthier plants
Easier property maintenance
With a professional installation you can rest assured, knowing your water harvesting system is there for emergencies and is environmentally friendly too. Drain Doctor are available 24/7 to answer any questions about rainwater harvesting or any other type of plumbing or drainage enquiry. We are here to help when you need it the most, day or night, even on bank holidays and weekends!
Find a Rainwater Harvesting Engineer Today
Pop your post code into our 'Find your local engineer box'

Complete the contact form and someone will give you a call

We will let you know when the emergency plumber will arrive via email and phone
If you would like to get in touch to discuss your rainwater harvesting requirements, or have problems with an existing system, contact us today for in-depth advice, assistance, and recommendations.
There is no additional charge for our late night, weekend, or bank holiday plumbing services, we are simply open and ready to help with any water meter or leak issues.