How to Identify & Fix Leaking Pipes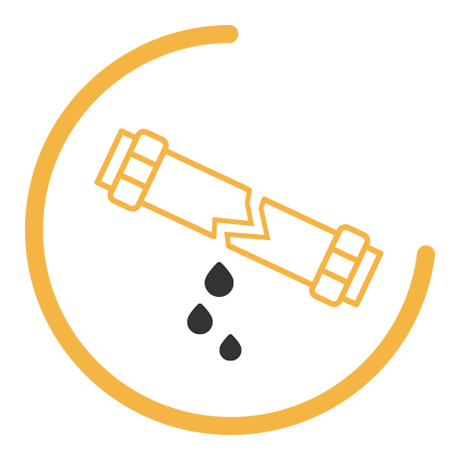 Unexpected leaks happen both at home and in the workplace. With these emergency pipe repair tips, you can temporarily fix a leaking pipe until an expert 24hr emergency plumber can come and solve the problem.
Detecting a Water Leak in Your Home
When a pipe leaks or bursts, it is usually obvious where the problem originated. The first thing you should do is figure out whether the leak is near any electric sources. If so, step one is:
Turn Off the Power
In your fuse box, switch off the electric sources in the area of the leak to avoid more serious issues. However, if the fuse box looks wet, do NOT touch it. Call a plumbing professional in as soon as possible to make them aware of the issue and they can advise further.
Need an Emergency Plumber? Call Drain Doctor
If you have an emergency, whether it is a burst water pipe, a sink leaking, problems with the shutoff valve or you need a drainpipe repaired. No job is too big or too small for Drain Doctor's plumbers, so give your local emergency pipe repair professionals a call.
Once the area is clear of electric sources, if any were present, the second step is to:
Find the Isolation Valve
With a leaking pipe, or any leak, you will want to stop the flow of water to that area as soon as possible. Find the Isolation valve and use a flat headed screwdriver to turn the screw clockwise until the water has stopped. If isolating the water source has not stopped the water flow, the next step is to:
Find your Stopcock
This is the valve that shuts off the entire water supply to your home. It is usually located under the kitchen sink, but in some properties, you will find it out in the hallway. If you struggle to locate the stopcock, your landlord or engineer can help you. It is a good idea to know where the stopcock is, so that in the event of a leaking pipe you can stop major damage.
Close the Stopcock
Turn the handle on the stopcock clockwise until it's fully closed. This should cut off the water to your plumbing system. It's also a good idea to turn off your heating system as well.
Temporary Solutions to Fix Leaking Pipes
With your electricity, water and heating turned off, you can come back to the leaking pipe. A good option is to secure some cloth tight around the area as best as you can to hold it closed and fix the leak temporarily until you can get the pipe professionally fixed. It is not a permanent solution to the problem, but it can help prevent severe water damage to your home.
Following these steps should help prevent a leaking pipe from worsening, albeit temporarily. Once you have secured your leak as best as you can, one of our local expert engineers can come out and fix the leaking pipe permanently.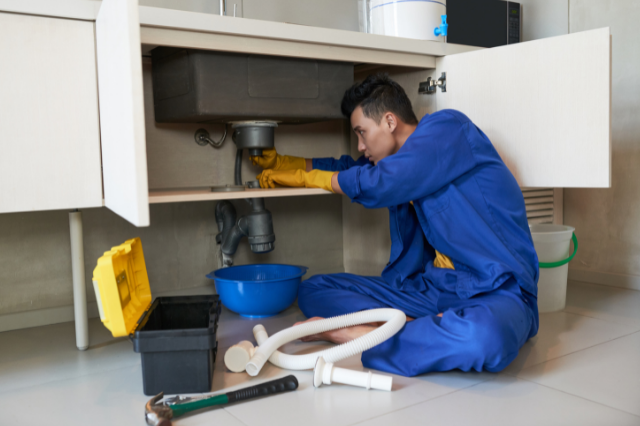 Leaking Pipe FAQs
Leaking pipes often pose homeowners and property managers a lot of questions, some of which are answered below.
What If I Find a Leaking Pipe After Hours?
That's not a problem for Drain Doctor. We operate 24hrs a day, 365 days a year! Our dedicated and friendly team of engineers can visit any time you need us, whether that is during the day or night for a burst water pipe, dripping tap or leaking pipe under a sink. Find a local Engineer close to you on our website.
How Much Does an Emergency Plumber Cost and How Much Will a Pipe Repair be?
At Drain Doctor, we don't charge any call out fees. Our engineers will arrive at your property and assess the problem with your leaking pipes and then they can provide you a free, no obligation quote to repair your leak at a fair and ethical price. 95% of the time we can fix your pipe leak there and then!
What Counts as a Plumbing Emergency?
Sink leaking? Burst water pipe? Don't worry, if you have a problem and aren't sure if it is an emergency or not, our engineers are highly trained across every service area, from emergency pipe repairs to blocked toilets.
Our expert knowledge allows our plumbing professionals to easily identify & resolve your problem, no matter the severity. Any issues give us a call; we are available 24 hours a day to discuss any help you require. For those who manage properties, we also offer maintenance contracts and can implement preventative measures to keep plumbing in pristine condition.
An Outside Water Pipe is Leaking, What Do I Do?
Water dripping from a pipe outside could be something as simple as a leaking overflow pipe, however, if there is localised flooding, there could an issue with the mains pipe. Pipes coming from the wall of your home by a bathroom may well be the overflow pipe. This issue could be condensation or a problem with the float in a cistern.
Water or mould gathering in your garden or anywhere outside, may indicate an issue with the mains or a water leak underground. Whatever the case, don't panic. Drain Doctor can come out and fix the leaking pipe fast. Have questions? Give us a call.
Common Causes of Leaks
It's a good idea to know what the common causes of leaking pipes are, especially to prevent burst pipes and loose connections. In addition, knowing the common causes can help you locate problems faster, to limit any damage made by water.
Boiler/Water tank: Check the valves that carry water in and out of your boiler or water tank. If there isn't any water escaping, look for slow leak signs: including marks on the floor below the valve or hissing sounds. With Central Heating boilers, a leak could be a sign of something seriously wrong, so contact a specialist.
Toilets: It isn't unusual for a toilet to start leaking, since they are used very often. It isn't usually something to worry about, but it can be expensive if it's continuously running over long periods of time. Our plumbers are happy to provide toilet repairs when required.
Showerheads: Much like toilets, we use showers regularly, if not daily. This means parts can start to wear down and you are more likely to find leaks. If you experience a loss of water pressure, it could be down to limescale build-up, but if removing the build-up doesn't help the pressure, a leak in the showerhead could be the culprit. Let our shower repair team resolve the issue.
Appliances: Through normal, everyday use, appliances like washing machines can move slightly from their original position. This can loosen valves and pipes and eventually lead to leaks. Checking the connections regularly and making sure all the attachments are secure is a good practice to avoid problems.
Sinks: A common problem is a leaking pipe under the sink. The same with appliances, sinks are used often and sometimes a pipe can get damaged or a section comes loose, especially if the leak is under the sink and in a cupboard which you use for storage. With any leaking sink, the damage can happen fast if the water isn't shut off.
TIP- Make sure you can access the sink leak and shut off valve easily without any cleaning products in the way.
Leak Prevention
Checking these places regularly, especially during any renovation work or during anything that could disturb the piping, will help reduce the number of problems with leaking pipes.
Specialist Leak Detection for Drains
Not only are we capable of solving leaking pipes, but we also provide a leak detection service that involves non-invasive diagnostics to find the problem with ease. We use state of the art thermal imaging, CCTV, and tracer gas surveys, all non-destructive methods that locate any type of plumbing leak precisely without causing unnecessary disruption or mess in your home or place of business.
TIP - When purchasing a property, you may even want to get a specialist drain survey done on the property to find problems before they start!
Book a drain survey today. For more information on locating troublesome issues, visit our page on Leak Detection Services.
Find an Engineer to Fix a Leaking Pipe
Put your postcode into our 'Find your local engineer box'

Complete the contact form and someone will give you a call soon.

Call outs are FREE, and we don't charge extra after hours!